A Brother's Search for an American Warrior
"Only if you have truly lived will others find solace and strength in your death, no matter how it finds you... Live True."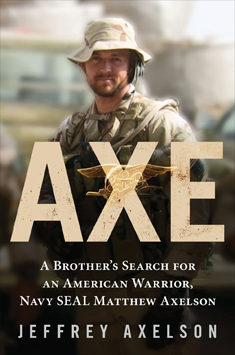 Axe: A Brother's Search for an American Warrior is a beautifully crafted, action-filled biography of an elite commando's inspiring life and tragic death—a final chapter in the story of the Operation Red Wings mission, made famous in Marcus Luttrell's #1 New York Times bestseller Lone Survivor.
Navy SEAL Matthew Axelson was just 29 when he was killed in Afghanistan in the aftermath of the harrowing mountaintop battle captured in Lone Survivor. In telling the story of that extraordinary fight, Luttrell made legendary a cadre of brave warriors, including one special hero: Matthew Axelson.
Axe: A Brother's Search for an American Warrior recounts Matthew's life in the years before that firefight, revealing the many ways in which an ordinary American kid became an extraordinary American hero. Jeffrey Axelson also shares the untold story of the twelve days following the firefight, and reveals what Matt was doing during that time—contrary to previous accounts. Through his own research and the cooperation of numerous SEALs who have never gone on record before, Jeffrey pieces together his brother's final days and describes Matt as a warrior who embodied duty, fortitude, sacrifice, and honor to the very end.
Photos & Videos